This screenshot shows a problem with version 2.0.3 of the YouTube Action: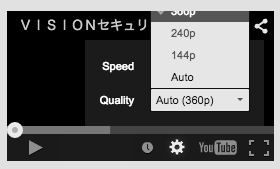 Here's where you can download the YouTube Action:
http://actionsforge.com/actions/youtube
As you can see in my screenshot, the COG pop-up, containing the resolution of the video, is cut off at the top in accordance with the height of the HTML box containing the video in Freeway.
I confirmed this in the latest version of Safari and Chrome. (I don't see it in FireFox only because the COG icon does not show up in FireFox for some reason.)
Obviously, the Action needs to be fixed to solve this problem perfectly. But since it sometimes takes an eternity for Actions to be updated, I am posting this in hopes that perhaps one of you would know an HTML markup hack that may fix it.
Thanks!
James Wages
---
freewaytalk mailing list
email@hidden
Update your subscriptions at:
http://freewaytalk.net/person/options