Hello all.
I'm really not happy with the site folder being embedded in the package created by Xway.
I have been using b5 just to do some noodling about learning how things work, and making a small change to my "day job" web site. I FTP using Transmit (v4.4, which I know is old and no longer supported, but so am I), going back to Freeway days.
Navigating about to find the site folder is a nightmare, and usually ends up with it being copied or moved out of the site package. With the latest upload, I dragged the site folder into Transmit's upload panel, and then discovered it had actually disappeared from the site package and is now living at the top level of my user directory!
Of course, I can no longer return it to the package, and Xway hasn't a clue where it's gone and won't publish any more. If I try to do anything with the original document, I get this error message: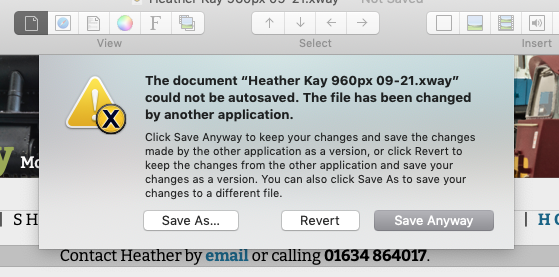 The only way out is to make a duplicate of the original Xway file and start again. I suppose that's a useful way to provide versions of the site design as I work!
Can I politely ask for an option to create an external site folder for easier management?