Last year, Dave helped me build a CSS menu that had a sticky element built in using jQuery. Everything worked splendidly, but now I'm trying to do something a little more complex — adding in a submenu.
Everything works fine on the desktop, iPad and even Droid phones. The problem is with the iPhone. If you scroll to the bottom of the page on this website very quickly, as if you wanted to get to the bottom of the page, the CSS submenu will pop up unannounced and get in the way.
Here is a screenshot: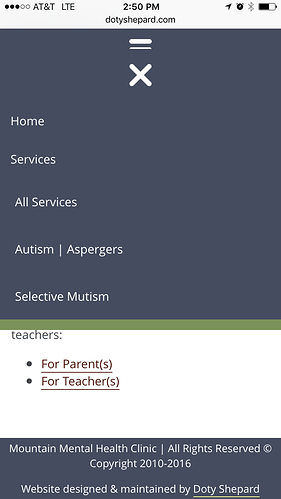 There are a couple of other oddities. When the menu pops up, it's not the entire menu tree. In the screenshot, you can see that Resources & Contact are missing.
And, it appears to be erratic, not happening every time. When it happens, clicking the X does nothing. The only way to clear the menu is to hit the hamburger icon or refresh the page.
You can get around this error by scrolling very slowly. But, for me it happens about 50% when I'm scrolling quickly and it happens on every page.
As the iPad and desktop are unaffected, is it possible this is an error with the hamburger menu itself??
Thanks everyone!
Doty
---
freewaytalk mailing list
email@hidden
Update your subscriptions at: