In order to create responsive square de height of the div's need to be the same as the width. You can't do this within the standard Freeway given options, so there's a workaround for this (CSS3 only).
In a flexible width layout, just apply the proper % for width (12,5% in this 8-square example). Because squares tend to have the same height and width, you need to determine the height as well, but Freeway will use the percentage of the page-height, which -of course- is different. CSS3 However enables you to use the viewport as source (I'm currently using just two of them):
VW - Viewport Width (1=1%, 100=100%)
VH - Viewport Height (1=1%, 100=100%
Well, there you have it. But Freeway's interface only supports %, px and em … you will have to apply those values using the extended feature. So having 12,5% applied for div width, you will need to open up the extended feature (Cmd+X) and select the DIV style tab. Now add a new attribute: 'height' for name and for value enter '12,5vw !important' (without the quotes). Now you've just applied 12,5% of the viewport width to the DIV's height. The !important part will overrule other height-attributes applied by Freeway. That's all.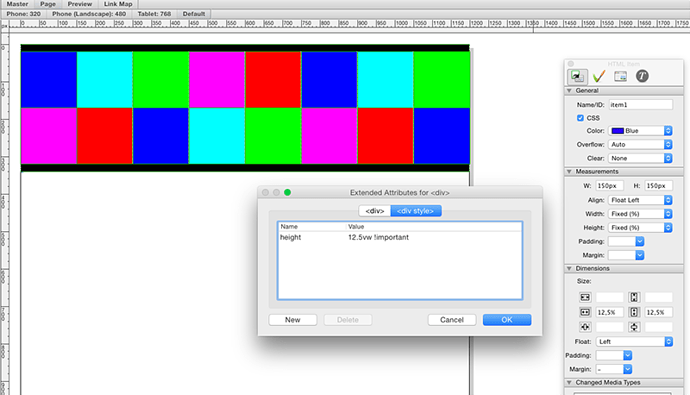 Demo found here:
http://demo.rvanheukelum.com/responsive-square-divs/
---
tutorials mailing list
email@hidden
Update your subscriptions at:
http://freewaytalk.net/person/options